Back to Listing
Laurie Douglas
Colorectal cancer survivor shares her story
Like many of the 150,000 Americans who find out they have colorectal cancer each year, Laurie Douglas was shocked by her diagnosis in November 2022. An active realtor in Portsmouth, New Hampshire, she did not have a known family history of cancer and experienced no symptoms until she had spontaneous rectal bleeding one evening. She scheduled an appointment with her doctor the next day and was soon diagnosed with Stage III rectal adenocarcinoma, a form of colon cancer.
Treatment and recovery
After an initial meeting with an oncologist at Portsmouth Regional Hospital, she began radiation and chemotherapy treatments. She was then referred to Dr. Michael Morton, a board-certified and fellowship-trained colorectal surgeon who is part of the multidisciplinary cancer care team at Portsmouth Regional Hospital and Parkland Medical Center. "Of course, I was nervous about my prognosis and wasn't very eager to have surgery, but Dr. Morton immediately put my fears at ease," Laurie says. "From our first meeting, I felt very confident in him."
Laurie recalls, "Dr. Morton is very down-to-earth and has a great personality. He really listened to me, and I never felt rushed during our appointments." Since Laurie's cancer was at Stage III and had not yet spread to surrounding organs, surgery was determined to be the best option to extract her tumor. Using a robotic, minimally invasive technique, Dr. Morton surgically removed Laurie's tumor and any affected lymph nodes, thereby minimizing her incisions and accelerating her recovery. "People told me that the 3rd floor surgical suite at Portsmouth Regional was state-of-the-art, and that was exactly the experience I had," remembers Laurie. "The care I received there was exceptional."
Post-surgery, Laurie had minimal pain and spent just two days recovering at Portsmouth Regional Hospital before going home. She is now cancer-free and has made a full recovery. "Dr. Morton told me that my cancer was treatable, and it was. I feel great and am back to working and spending as much time with my family and friends as I can. The highest compliment I can pay Dr. Morton is to encourage others in my situation to consider him, as well."
Signs of colorectal cancer
In addition to living a healthy lifestyle, it is important to know the signs of colorectal cancer. If you experience any of these symptoms, do not ignore them and schedule a consultation right away. Early detection and treatment when colorectal cancer is in its earliest stages are key to having the most successful outcome. Possible symptoms of colorectal cancer, include:
Changes in bowel habits, especially constipation or diarrhea.
Fatigue, often due to anemia.
Weight loss.
Rectal bleeding.
Nausea and/or vomiting.
Persistent abdominal discomfort associated with pain, gas, or cramps.
Persistent feeling that the bowel is not empty.
Screening for colorectal cancer
Many people, like Laurie, have no noticeable symptoms of colorectal cancer, highlighting the importance of early screening. The American Cancer Society's recommended guidelines suggest that people at average risk of colorectal cancer receive a highly-sensitive stool test or a visual colonoscopy examination starting at age 45. If discovered early, pre-cancerous polyps in the colon can be removed before they become cancerous.
Patients at higher risk of developing colorectal cancer should consult their physician about testing before age 45.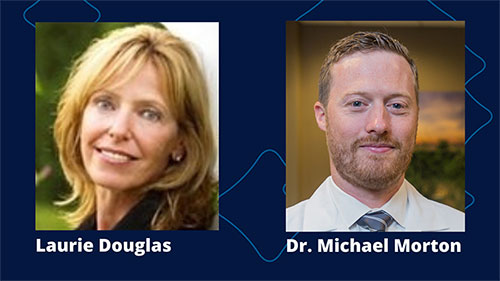 Meet Dr. Michael Morton
Dr. Morton is a graduate of Tufts University School of Medicine and completed his general surgery residency at New York Presbyterian Hospital—Weill Cornell Medical Center. He also trained for two years as a Sarcoma Disease Management Research Fellow at Memorial Sloan Kettering Cancer Center and fulfilled a colorectal surgery fellowship at Brigham and Women's Hospital. He received numerous academic and clinical achievement awards and his research has been cited in several published works and national societal meetings.
To schedule a consultation with Dr. Morton, call (603) 431-5242 or book an appointment online.