About Advanced Orthopedics - Gilford
The skilled orthopedic doctors at Advanced Orthopedics — Jeffrey Clingman, MD, Alexander Hennig, MD, Joel Huleatt, MD and Glenn Lieberman, MD — are committed to providing comprehensive, individualized care to patients in Gilford, Laconia and other communities in and around New Hampshire's Belknap County.
Our physicians, nurses and supporting team members work together to design a treatment plan for your particular injury or condition while delivering excellent customer service. Our goal is restore your mobility and ease your pain so you can get back to living an active lifestyle.
Drs. Hennig and Huleatt specialize in sports medicine and both serve as physicians for the United States Ski and Snowboard team.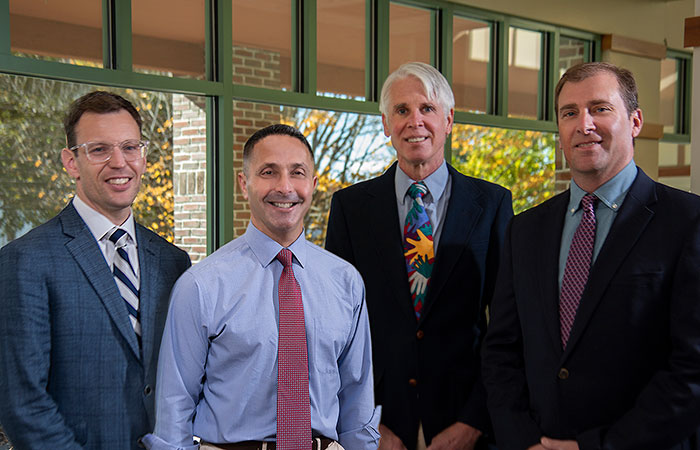 Orthopedic expertise in New Hampshire's Lakes Region
Our orthopedic specialists understand how much an orthopedic injury or condition can limit your ability to make even the simplest movements. We complete a thorough evaluation of each patient to ensure we're recommending the most effective plan of care and addressing all causes of your pain.
We use nonsurgical treatment approaches whenever possible, but if orthopedic surgery is required, our team will be with you the entire way, providing education and support from preoperative visits through recovery.
To learn more about our services or to make an appointment with an orthopedist, please call (603) 522-6163.
Orthopedic conditions we treat
Our orthopedic surgeons are experienced in treating a wide range of acute and chronic conditions, from common wear-and-tear issues to complex orthopedic injuries. Some of the conditions we treat include:
Age-related conditions, such as degenerative joint disease
Arthritis
Broken and fractured bones
Joint issues like dislocations and sprains
Ligament tears (ACL, MCL)
Muscle strains and tears (calf, hamstring)
Nerve compression in the spine or extremities
Tendon tears or tendonitis (Achilles, biceps, rotator cuff)
Work-related injuries
Our orthopedic services
Our entire team is committed to providing high-quality care in a comfortable setting for all patients. Orthopedic procedures and treatments we offer include but are not limited to:
Arthroscopy for knee, shoulder, ankle and wrist joints
Carpal tunnel and cubital tunnel surgery
Hand and upper extremity surgery
Injections
Ligament repair or reconstruction
Rotator cuff repair
Shoulder replacement, including anatomic and reverse
Spine surgery
Sports medicine
Gilford office location and details
We are located less than a mile northeast of the intersection of Gilford Ave and Daniel Webster Hwy. We're open Monday through Friday from 8am to 5pm.
Other locations
We have two other offices in the area to bring orthopedic care to our community. You can visit us at these additional locations: